Samsung Galaxy S21 FE is the under power version of the flagship Samsung Galaxy S21 Series. Here the main focus of Samsung is to bring those essential flagship features at a lower price by cutting off those features which are not so important. It is also the successor of the Galaxy S20 FE.
Samsung Galaxy S21 FE Specifications (Tipped)
As per the new report, the Galaxy S21 FE will be powered by Qualcomm Snapdragon 888 SoC & Exynos 2100 for different locations, paired with 6GB RAM. The smartphone will flaunt a 6.4-inch FHD+ display. It is an AMOLED panel, which will show bright & punchy colours. The display also supports up to a 120Hz refresh rate.
In terms of camera, the S21 FE will feature a 64MP triple camera setup. The primary camera is 64MP. We can expect that the ultrawide camera could be 12MP at least. And there is another camera which may be a telephoto lens or just a depth or macro sensor to maintain the triple camera tradition. For selfies, it will come with a 32MP front-facing camera with a punch hole.
The handset will feature a 4500mAh battery with 15W charging, which Samsung calls Fast Charging, while other brands give at least a 30W charger as a standard for their mid-range devices. It is pretty surprising to see a smartphone giant like Samsung providing only 15W charging support on their upper mid-range phone.
On the software side, the S21 FE will run on Android 11 on top of One UI. The device will feature Dual SIM, 5G, NFC, Wi-Fi, and Bluetooth in terms of connectivity. The S21 FE doesn't support a micro SD card, and it will ship without a charger in the box like its big brothers – the Samsung S21 Series.
This is all we know about the Galaxy S21 FE as of now. There is no info on the pricing of this device yet.
Also Read: Samsung Could Be Working on A Rollable Screen Smartphone, Suggests New Patent
Samsung Galaxy S21 FE Launch Timeline (Tipped)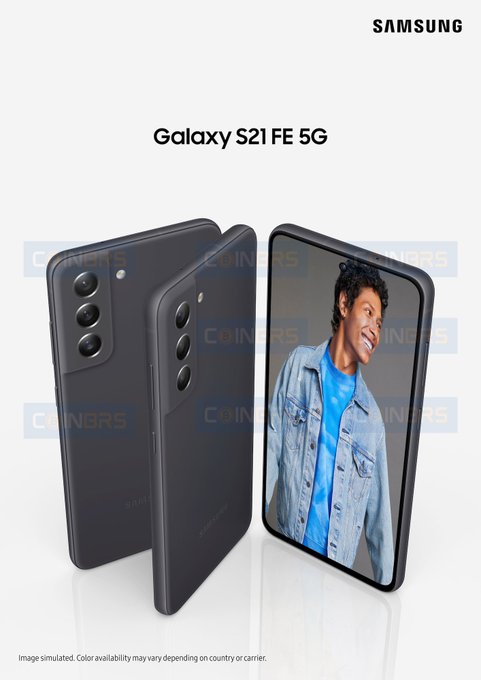 Because of chip shortage, the launch of this upper mid-range phone has been delayed a lot. Now, as per the latest report, the phone is set to launch at CES, which will happen between January 5th to 8th. Thanks to a new report, we came to know about the complete specifications of the Samsung Galaxy S21 FE.
The latest report doesn't tell about Specifications only, but it also shows some official renders of this device. As Expected, the device looks very similar to its big brother Samsung Galaxy S21. The Galaxy S21 FE will be available in four colours: white, Lavender, Cream, and Black. Now let's take a look at the specifications of the Galaxy S21 FE.
---
What do you think about Samsung Galaxy S21 FE? Let us know in the comments section below. Stay tuned to Oyprice and subscribe to our YouTube channel. And don't forget to join our telegram channel for regular news and updates.