After launching smartphones for the last 3 years, the brand is gearing up for the Realme Laptop launch. The Realme Laptop is likely to be called Realme Book. And the way the brand teased the product looks like it might be a good machine for Students and professionals. Let's take a look at the Specifications and expected prices of Realme Book.
Realme Book Specifications
We came to know these Specifications thanks to GizNext and some teasers by brand officials. Realme laptop will feature a 14-inch. Also, the Realme laptop will use a 3:2 aspect ratio display. For this aspect ratio, you will be able to see more information than a same-size usual 16:9 display. Also, the realme CEO showed the design of the Realme Book in one of his recent tweet. It confirms again that the laptop is targeted towards students and working professionals. Because the design is very sleek. Although, we do not know the actual weight of the machine. But it's for sure that the Realme Book will weigh less than 1.5Kg. It is of course that the display will be an FHD LED.
Also, if we carefully look into the image, the Realme Book has a fingerprint scanner. On the right side, there will be a cut-out for the speaker. Also, the speaker will be tuned by Harmon Kardon.
The Hardware Used on Realme Book
The laptop will be powered by Intel Core i3 and i5 11th Gen processors. To be more specific 1135G7 is the i5 11th gen processor used in this machine. This is a 4 Core 8 Thread processor. It can run at Max 4.2GHz.
Currently, the must-have thing on any laptop is SSD. And as the Realme Book focusing on Students and working professionals then we can surely expect that this notebook will depend on SSD for storage. Thanks to Geekbench we came to know that Realme Book will get 16GB DDR4 RAM. Also, we can expect that the base variant will get 256GB SSD.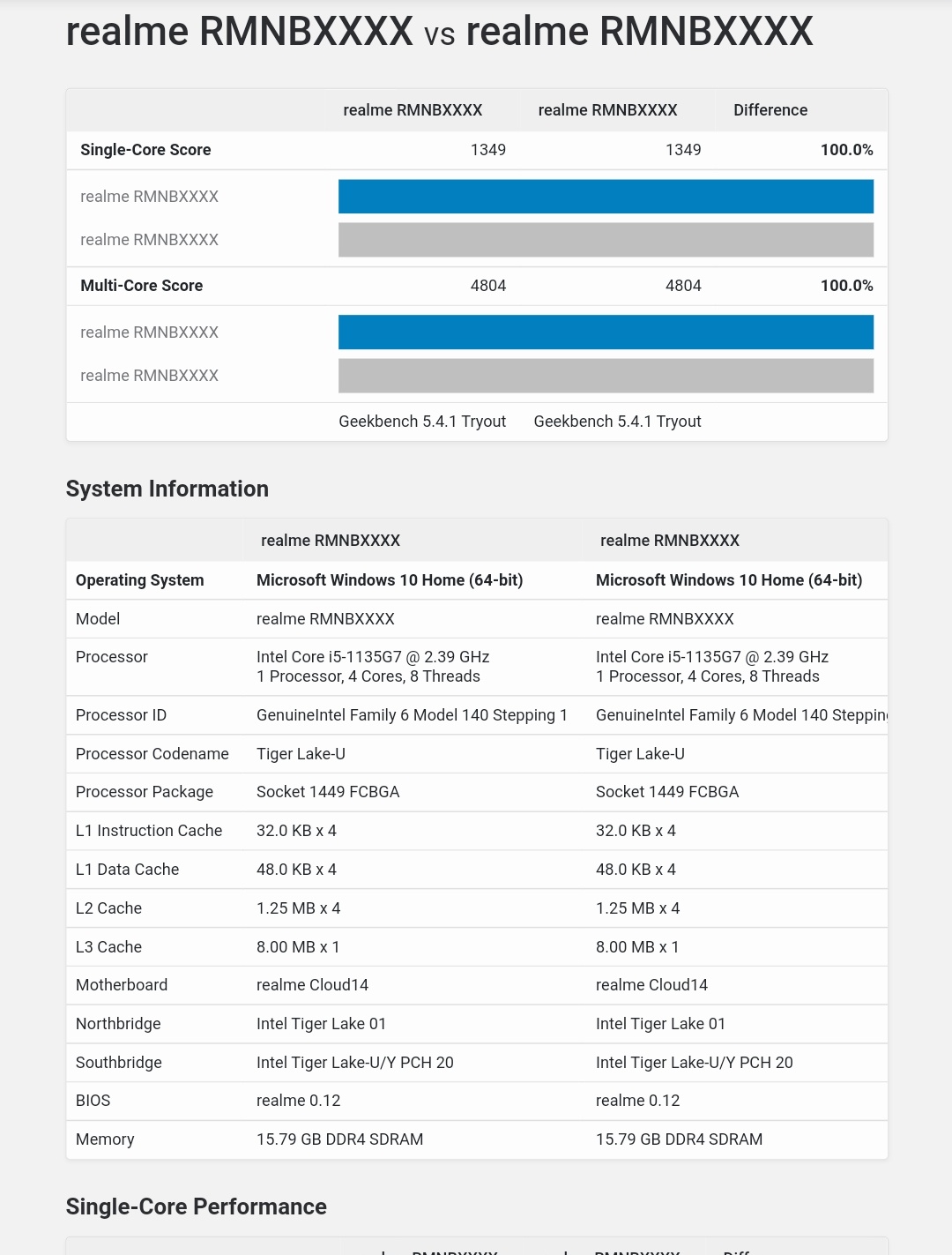 As per the 3C Certification realme Book will use 65W charging via USB C. This means you don't need to carry any specific charger. It's another confirmation that the laptop will be focused on those who want a lightweight machine. At this time we don't know about the battery capacity.
For I/O, Realme Laptop will get two USB C ports on the left side, one of them will be used for charging. On the right side, there will be a USB A port and a 3.5mm Jack.
As of now, we know this much about the upcoming Realme Book. We do not know the exact launch date of this one. We can expect it will happen at the end of this month.
Realme Laptop Price
Judging by the Specifications, we can definitely expect that the Realme Book starting price will be around Rs. 40,000.
Stay tuned here to know more about the Realme Book, very soon. And thanks for reading till the end.
See Related: Google Tensor Chipset, Everything you Need to Know
Samsung Galaxy A52s 5G Price and Variants Leaked Ahead of Launch
Vivo Patents Design for Triple Foldable Phone Here's What We Know
What do you think about the Realme Book? Let us know in the comments section below. Stay tuned to Oyprice and subscribe to our YouTube channel. And don't forget to join our telegram channel for regular news and updates.