After launching smartphones for the last 3 years, Realme is gearing up to enter into the laptop segment. Realme's laptop is likely to be called the Realme Book. The way the brand teased the product looks like it is aimed at students and working professionals. Let's take a look at the Specifications and expected prices of Realme Book.
Realme Book Specifications
Realme itself teased the specifications of the device multiple times. According to the teasers, the laptop will feature a 14-inch display with 2K resolution. This will be the first laptop in this segment to feature such a high resolution. Also, the Realme laptop will use a 3:2 aspect ratio display. This aspect ratio lets you see more information than a usual 16:9 display.
The display has a brightness of up to 300 Nits. Realme CEO Madhav Sheth also showed off the design of the Realme Book in one of his recent tweets. Since the design is very sleek, we can confirm that the device is aimed at students and working professionals and is not exactly a gaming device.
If we carefully look into the image, the Realme Book also has a fingerprint scanner. On the right side, there will be a cut-out for the speaker. The speaker will be tuned by Harmon Kardon.
Hardware on the Realme Book
The laptop will be powered by Intel Core i3 and i5 11th Gen processors. To be more specific 1135G7 is the i5 11th gen processor used in this machine. This is a 4 Core 8 Thread processor. It can run at Max 4.2GHz.
Currently, the must-have thing on any laptop is SSD. Since the Realme Book focusing on Students and working professionals then we can surely expect that this notebook will depend on SSD for storage.
Thanks to Geekbench we came to know that Realme Book will get 16GB DDR4 RAM. Also, we can expect that the base variant will get 256GB SSD. According to TUV Rheinland certification, the Realme Book will have a total of five variants. The Model number of these five variants are RMNB1001, RMNB1002, RMNB1003, RMNB1004, and RMNB1005.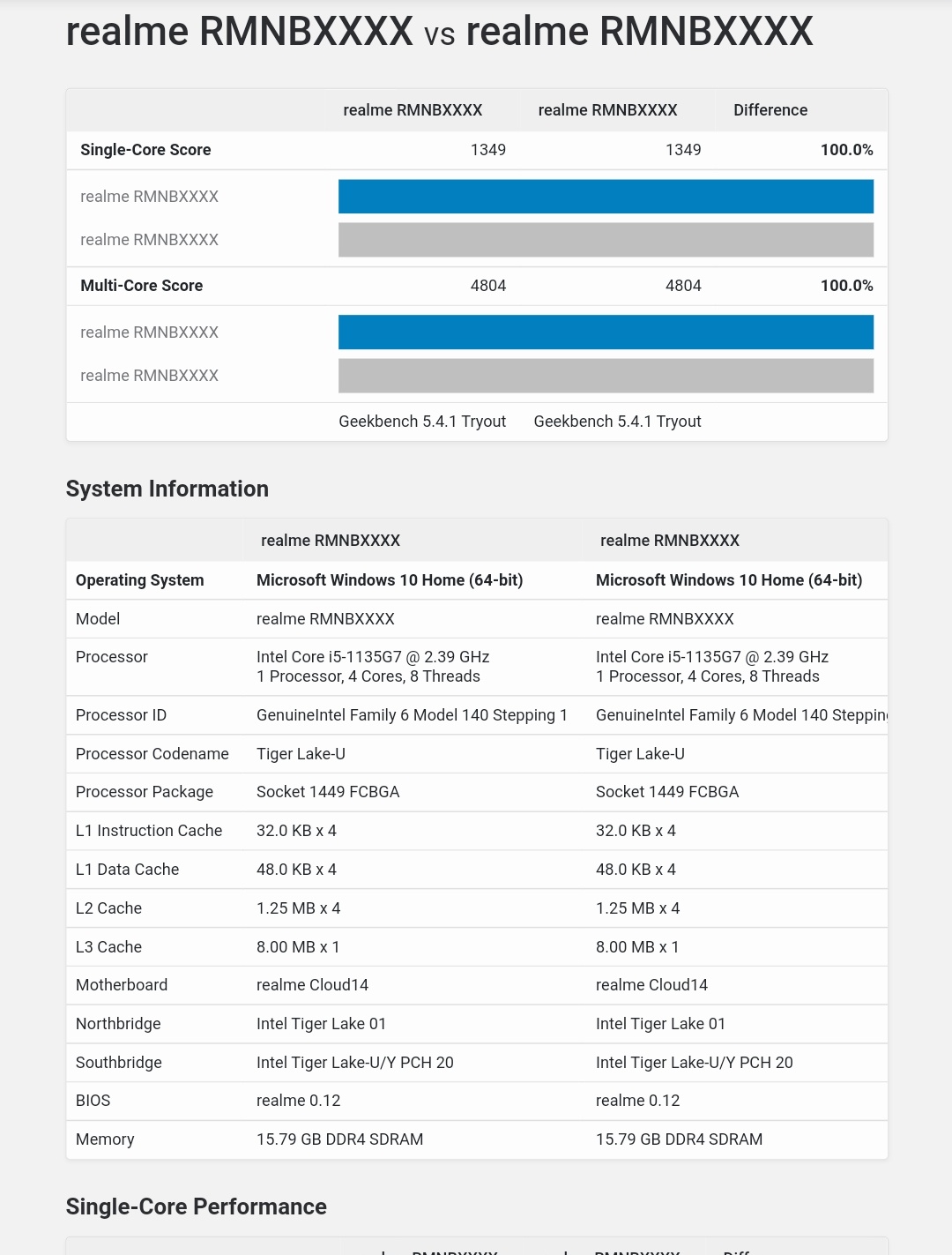 The Realme Book will feature a 54Wh battery. As per the 3C Certification, Realme Book will use 65W charging via USB C. This means you don't need to carry any specific charging cable other than your smartphone's one. It's another confirmation that the laptop will be focused on those who want a lightweight machine.
For I/O, Realme Laptop will get two USB C ports on the left side, one of them will be used for charging. On the right side, there will be a USB A port and a 3.5mm Jack.
Even with all of these features, Realme Book weighs only 1.3kg. The Realme Book is launching in India on 18th August which happens to be the same day the Realme GT and Realme GT Master Edition will be launched as well. Realme Book will be sold via Realme Store and most probably via Flipkart also.
Realme Laptop Price
Judging by the specifications, we can expect that the Realme Book will have a starting price of Rs 40,000 and above.
Stay tuned here to know more about the Realme Book, very soon. And thanks for reading till the end.
See Related: [Exclusive] These Are The Renders of OPPO's New Smartwatch
Xiaomi Mi MIX 4 Benchmarked with Snapdragon 888 Plus SoC and 12GB RAM
Vivo Patents Design for Triple Foldable Phone Here's What We Know
What do you think about the Realme Book? Let us know in the comments section below. Stay tuned to Oyprice and subscribe to our YouTube channel. And don't forget to join our telegram channel for regular news and updates.