Razer is a big name in the gaming industry. In a Twitter post, Razer announced the "Razer Phone Cooler Chroma" on Tuesday, 7 December. It is a MagSafe compatible cooler and has a clamp for Android devices.
A USB-C cable powers the RGB Cooler. The user must plug the cable into a power adaptor to use the Cooler. RGB is an essential factor for gamers (for extra gamer FPS), and as the name suggests, this Cooler will be powered by RAZER CHROMA™ RGB. It is Razers custom software that allows users to customize lighting effects. Users can select from various presets, and the software also supports Dynamic in-game lighting effects.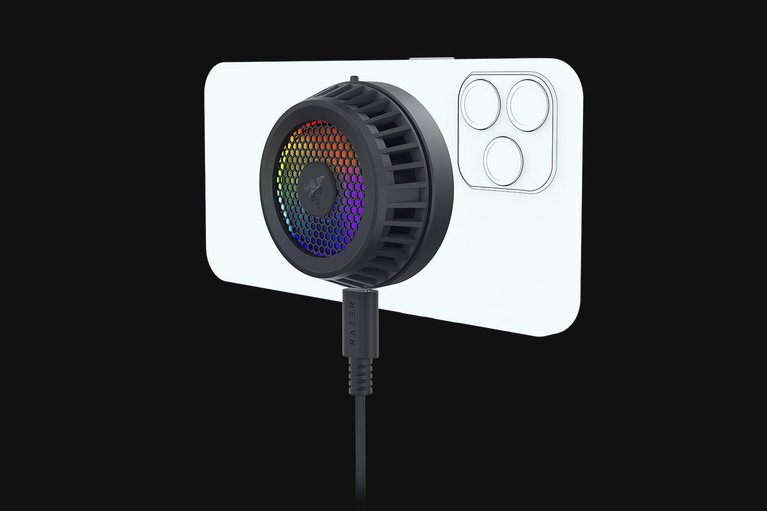 Razer makes great gaming laptops and exceptional gaming peripherals. And like all companies, it wants a slice from the smartphone industry and has made smartphones and continues to make peripherals for smartphones.
What are the components of Razer Phone Cooler Chroma?
The RGB cooler is made out of 6 parts, viz,
Razer Chroma RGB.
Cover.
7-bladed fan.
Aluminum heat sink.
Electronic Peltier Cooling Tile.
Cooling plate.
The 7-bladed fan design has a max speed of 6400 rpm, with the sound reaching only up to 30dB. It also has 12-programmable LEDs, as mentioned earlier, that sync with the game and indicates pairing and power status.
You get the Cooler and a 1.5 meters USB-C to USB-C cable in the box. However, you do not get a power adaptor in the box. We don't get power adaptors with USD 1000 smartphones, so we can't complain here.
On paper, the Cooler Chroma seems like a well-rounded product for the price it comes at, USD 59.99. You can go ahead and buy it right now, from here.
What do you think about the Phone Cooler Chroma for the price it comes at? Also, have coolers for smartphones been effective in your experience? Let us know in the comments below, and until then, stay tuned to Oyprice and subscribe to our YouTube channel for regular news and updates.