OnePlus has recently announced a price hike for its OnePlus Smart TVs in India. And now they have once again hiked the price of OnePlus Smart TVs in India. The price hike is as higher as Rs 7000 when compared to the launch price.
Starting from the cheapest model in the OnePlus Smart TV, the 32-inch model which was launched in India at Rs 12,999 will be now available for Rs 18,999. It got a price hike of Rs 6000 which is almost 50% of the launch price. The 43-inch OnePlus Smart TV, which was aggressively priced at Rs 22,999 is now available for Rs 29,499. The 43-model got a huge price hike of Rs 6500, which is a huge gap between launch price and hiked price. The 40-inch model, which was launched recently and was priced at Rs 23,999 will be now available for Rs 26,499, it got a price hike of Rs 2500.
Also Read: pTron Launches its New pTron Bassbuds Ultima ANC TWS in India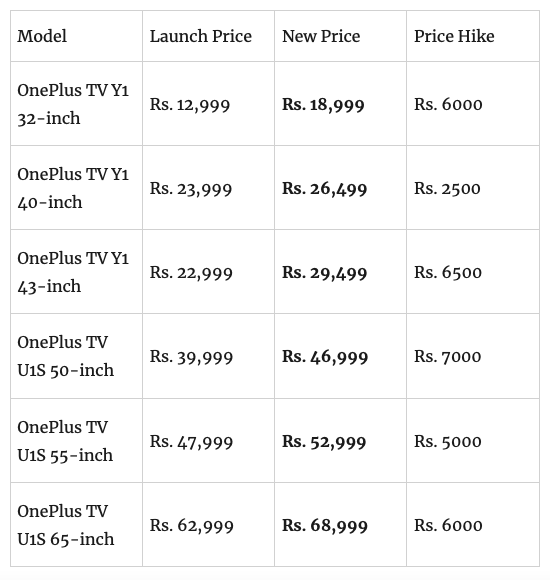 Looking for the high-end OnePlus TV U1S series, they got more price hikes when compared to budget ones. The 50-inch model was launched for Rs 39,999, the 55-inch model was launched for 47,999, and last but not least, the 65-inch variant was priced at Rs 62,999. The TVs will be now available for Rs 46,999, Rs 52,999 and Rs 68,999 respectively. They got up to a 7000 whopping price hike. The company still hasn't cleared that what's the reason behind this price hike. But we strongly believe that undergoing chip shortage, component shortage, and hike in prices of open-cell panels used by TV manufacturers are the main reasons behind.
That being said, What do you think about the whopping price hike on OnePlus Smart TVs? Let us know in the comments section below. Stay tuned to Oyprice and subscribe to our YouTube channel. And don't forget to join our telegram channel for regular news and updates.