As you might know that the government has made it compulsory for all citizens to link their Aadhaar card to their respective PAN. PAN Aadhaar linking is compulsory for opening a bank account electronically without providing any further documents, applying Income Tax returns, and authenticating tax filings, among other things. So, if you haven't done it yet, here are few quick steps that will help you to link your PAN with Aadhaar. There are a number of ways by which you can do this. Let's jump right into this.
Link PAN card with Aadhaar card online
To link your PAN card with your Aadhaar card online, you need to have all the documents by your side. Also, you must have your mobile number registered with Aadhaar in case if an OTP is sent for verification.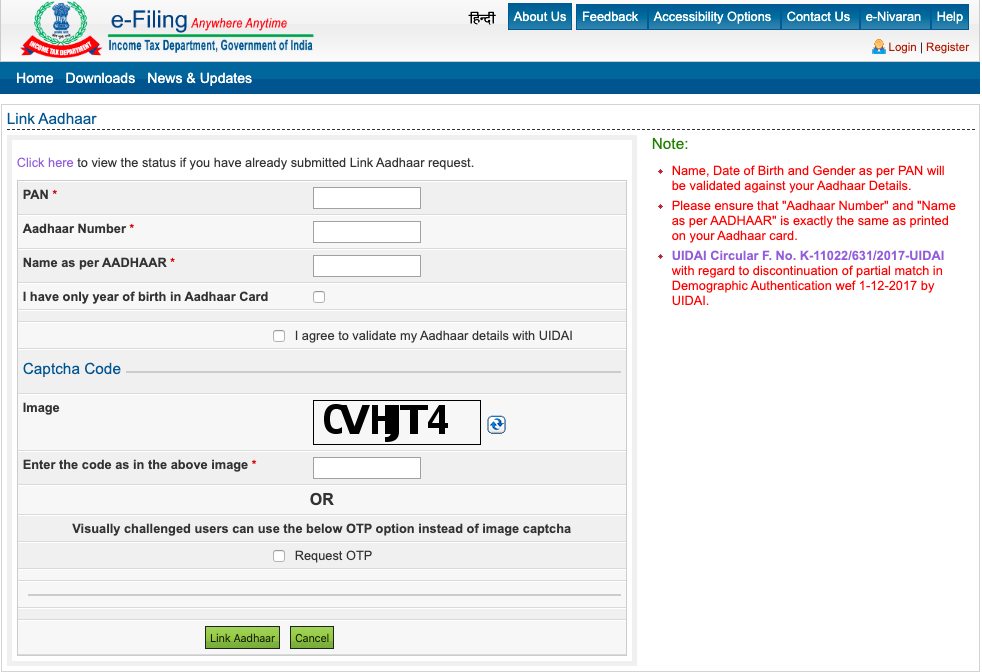 To start with, first, you need to visit the Income Tax Department official website and click on 'Link Aadhaar' under the Quick Links section.
Then you will be redirected to a form, where you need to fill in your PAN and Aadhaar card number, along with your name as per the Aadhaar card.
Fill up the form, check the "I agree to validate my Aadhaar details with UIDAI" box, enter captcha code, and click on the 'Link Aadhaar' button at the bottom of the page. For visually challenged users, they can opt for the OTP option instead of the image captcha to proceed.
Once you submit the form, there will be a confirmation message displayed on your screen. In case if the details don't match with your PAN card, an Aadhaar OTP will be sent to a registered mobile number.
How to check Aadhaar PAN card linking status online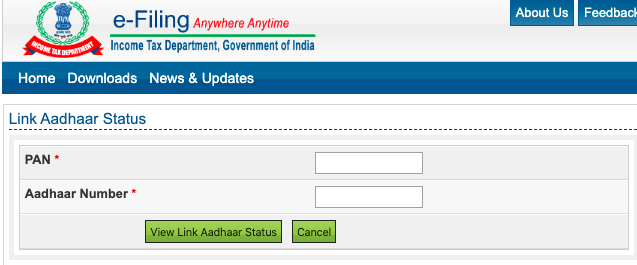 Go to the Income Tax Department website and look for 'To view status if you already submitted link Aadhaar status' or just click here.
Fill up your PAN number and Aadhaar number.
When you're all done, click the 'View Link Aadhaar Status' button to check whether your PAN card has been linked to Aadhaar or not.
That's it, your done.
How to link PAN with Aadhaar card via SMS
You can also link PAN and Aadhaar card by SMS. Just send the following message to 567678 or 56161: UIDPAN<SPACE><12 digit Aadhaar><SPACE><10 digit PAN>. It is as simple as that.
How to link PAN card with Aadhaar card offline
However, if you don't want to follow any of the methods above, you can also link your PAN with your Aadhaar card offline. You have to visit the PAN service provider center, NSDL, or UTIITSL, fill "Annexure-I" form, and produce supporting documents (i.e.) a copy of the PAN card and Aadhaar card. Also, an individual is required to pay a prescribed fee for the offline method. On the other hand, the online process is free of cost.
Aadhaar PAN link last date
India is a country where nothing has an expiry date, the last date for linking your PAN to your Aadhar card was March 31, 2020. Still, the government is allowing its citizens to link their accounts. Other countries might charge you with a large amount of penalty. Being an honorary citizen is one of the duties we have toward our nation. You can still do that by following the above steps.