Are you looking to buy a good smartwatch under Rupees 5000 and are confused to opt for the one that'll suit you and your pocket the best? Don't worry we got you covered.
Smartwatches have recently become very popular, thanks to a variety of brand offerings in a variety of price ranges. There was a time when only tech giants like Apple and Samsung only delivered smartwatches, and that too came at a very expensive price tag and not everyone could afford it. But now in 2021, we do have a decent selection of affordable smartwatches.
Having that said, the smartwatches under Rs 5,000 are nothing but fancier versions of fitness bands, with bigger screens. They provide a range of fitness tracking features, including SpO2 and menstrual cycle tracking, as well as the ability to mimic smartphone notifications.
Budget smartwatches, however, lack features like third-party applications and voice calling that you'd find on a more expensive WearOS watch or Apple Watch. So if you're looking for the best smartwatch in India under 5000 with a call function, you're not going to get it, but maybe we will get some more options soon. These smartwatches also shine in one key aspect that more premium smartwatches suffer – longer battery life.
Here are some of the best smartwatches under Rs 5000 on the market right now in India:
Best Smartwatch Under 5000 in India
---
1. Amazfit Bip U Pro (Rs 4,999)
Amazfit offers a wide range of smartwatches in India and that too in different price ranges. The Amazfit Bip U Pro is one of the brand's most famous products in India, selling for under Rs 5,000. A 1.43-inch transflective color TFT squarish monitor with 2.5D Corning Gorilla Glass 3 atop, a 5 ATM water-resistant construction, and up to 9 days of battery life with "typical use" is among the wearable's features. There are also 60+ sports modes on the Amazfit smartwatch, as well as Amazon Alexa for AI voice commands.
The smartwatch is water-resistant to a depth of 50 meters. It will also monitor your activities underwater, so you can swim with your watch on. The watch has a heart rate tracker that can be used 24 hours a day, a SpO2 monitor, a sleep quality analyzer, and more. Menstrual cycles and ovulation trackers are also available for women.
The Amazfit Bip U Pro is our first recommendation given that it ticks all the boxes with a price tag of Rs 4,999. You do have an option to save Rs 1,000 by opting for the Amazfit Bip U, but you will lose out on built-in GPS and Alexa.
---
2. Realme Watch S (Rs 4,999)
The Realme Watch S is a circular smartwatch from Realme that offers a more sleek and attractive look on a smartwatch. The Realme Watch S is a significant improvement over the company's first smartwatch. The latest version is more premium and looks more like a traditional watch, which increases its appeal.
The 1.3-inch color monitor is even sharper, and the round face allows it to blend in with a wider range of outfits. It can easily last two weeks on a single charge thanks to the larger battery. It gets the basics correct and then some for the price. The only real issue here is that the accuracy of sports tracking is often inaccurate.
---
3. Honor Watch ES (Rs 4,999)
The Honor Watch, a cross between a smartwatch and a fitness tracker, makes our list of best smartwatches under Rs 5,000 for a couple of reasons. The Honor Watch ES has been reduced in price by Rs 2,000, and it also has an excellent range of fitness and health-related features.
As a fitness tracker, the Honor Watch ES is fantastic. It includes features such as exercise tracking, heart rate monitoring, and sleep monitoring. A SpO2 monitor and a stress monitoring feature are also included. Both of these perform admirably and precisely. The Honor Watch ES's Fitness course mode, which provides guided exercises on the widescreen, is the device's standout feature.
If you're searching for more smartwatch functionality, though, you'll be disappointed because it's not the fastest at handling updates. The style is distinctive, but it can also be divisive.
---
4. Amazfit Bip S Lite (Rs 2,999)
The Amazfit Bip S Lite, priced at Rs 2,999, is an excellent option for those on a tight budget. The Bip S Lite features a polycarbonate body and a 20mm silicone strap in terms of design. On a single charge, the smartwatch is expected to last up to 30 days. The SpO2 sensor, on the other hand, isn't available here.
A 1.28-inch transflective color monitor and Always on Display are included in the visual department. The Bip S Lite has a 5 ATM water resistance rating, which means it can withstand water for up to 50 meters. Treadmill, outdoor running, walking, indoor cycling, outdoor cycling, yoga, elliptical trainer, and freestyle are among the eight sports modes available on the watch. Bluetooth music control, weather forecast, and a heart rate monitor are among the other functions.
---
5. BoAt Xplorer (Rs 2,999)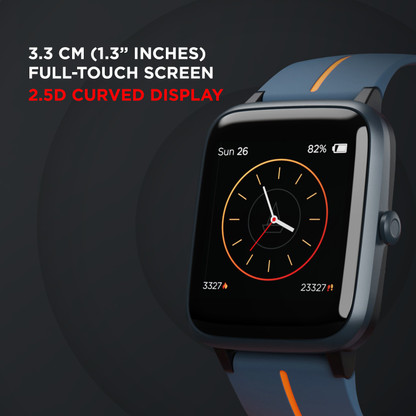 The BoAt Xplorer smartwatch is the most affordable wearable on the list with a built-in GPS that can monitor activities like running and walking without relying on your phone. A full-color touchscreen 2.5D curved display of 240 x 240 pixels is included. Smart updates mirroring from applications like SMS, Email, and Social Media App Alerts are among the smart features of the BoAt Xplorer. The watch's battery life is rated to last up to 7 days on a single charge.
In terms of fitness, the wearable can monitor a variety of activities such as indoor walking, biking, cycling, elliptical machines, rowers, swimming, yoga, and hiking, with automatic sports recognition for walking and running. Wellness mode, sleep, and a heart rate monitor are among the BoAt Xplorer's health-related features. It can also keep track of your menstrual cycle and direct you through guided meditation breathing. The watch, for example, does not include a SpO2 monitor.
---
6. NoiseFit Evolve (Rs 4,999)
The NoiseFit Evolve, just the second watch with an AMOLED panel under Rs 5,000, rounds out the list. The smartwatch has a circular dial with a 1.2-inch AMOLED display. There are nine different sports modes, as well as heart rate and sleep monitoring. The watch has smart features such as alerts from your phone and social media updates.
The battery will last for up to three days on a single charge. The NoiseFit Evolve is also IP68 rated, making it water, sweat, and dust resistant. The NoiseFit app, which comes with the watch, gives you more power over it. Controlling the camera, music monitoring, comprehensive fitness reports, sedentary alerts, and hydration reminders are among the other functions.
---
This was our list of best smartwatch under Rs 5000 in 2021 that you can buy in India right now. If you have any more suggestions, write down in the comment section below.