Apple has finally launched an all new iMac with a sleek new design and the M1 processor. The iMac 2021 comes with a 24-inch Retina touchscreen, an 85 percent faster CPU, a 2x faster GPU, a 1080p FaceTime HD monitor, a six-speaker system, a three-mic array with studio-grade quality, Thunderbolt 4 ports, and a new optional Magic Keyboard with Touch ID fingerprint sensor.
The Apple-made silicon also powers the latest iMac desktops, as well as the MacBooks and iPad Pro 2021 versions. Another significant improvement that the 2021 iMacs add to the portfolio is the expanded color palette available to customers.
Price and Sale in India
In India, the iMac 2021 starts at Rs 1,19,900 for the base model. The M1 processor in this model has an 8-core CPU, 7-core GPU, 8GB RAM, and 256GB storage. The second iMac, which costs Rs 1,39,900, has an M1 SoC with an 8-core CPU, 8-core GPU, 8GB RAM, and 256GB SSD. The most expensive iMac costs Rs 1,59,900 and comes with an 8-core CPU, 8-core GPU, 8GB of RAM, and 512GB of storage.
Pre-orders for the Apple iMac 2021 in India will begin on April 30th, with deliveries beginning in May.
Specifications
A 24-inch IPS LCD with 4.5K (4,480 x 2,520 pixels) resolution, 500 nits brightness, P3 wide color gamut, True Tone technology, and over a billion colors is included in the new iMac. As compared to previous ones, it is almost 50% thinner. As previously mentioned, the new iMac is available in seven vibrant colors: green, yellow, orange, pink, purple, blue, and silver.
There are two versions of the M1 SoC for the current iMac. The first version has a CPU with 8 cores and a GPU with 7 cores. The second model has an 8-core processor and an 8-core graphics processor. A 16-core Apple Neural Engine is included in both M1 chips. The new iMac comes with 8GB of RAM and a 256GB SSD as standard. Higher RAM and storage capacities are available to users.
In comparison to the standard model of the 21.5-inch iMac, the iMac 2021 has up to 85 percent faster CPU, 2x faster GPU, and 3x faster machine learning capabilities, according to Apple. In Final Cut Pro, the company states that the new iMac can accommodate five streams of 4K footage or one stream of 8K footage.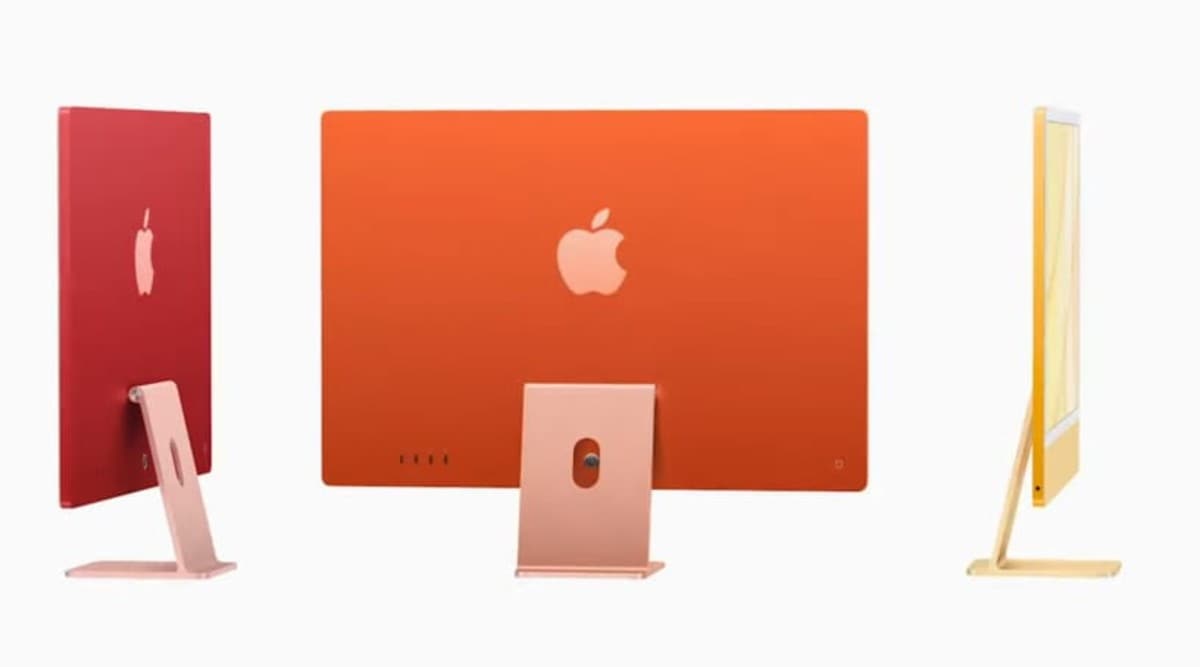 The new iMac has four USB Type-C ports, two of which are Thunderbolt 4 compatible, and a 3.5mm audio jack for compatibility. For a more compact configuration, the iMac 2021 uses a magnetic power connector. The power cable is 2 meters in length and matches the device's color.
The fact that the power cable connects to an adapter with an Ethernet port is intriguing. As a result, you can use your device's Ethernet link without having to connect the cable directly to your iMac, reducing cable clutter on your desk. Wi-Fi 6 and Bluetooth v5.0 are among the latest iMac wireless networking choices.
A 1080p FaceTime HD monitor, three microphones, and six speakers are included in the new iMac. Apple has released a brand-new Magic Keyboard for Mac that includes Touch ID, allowing you to log into your iMac with the touch of a fingertip. The new Magic Keyboard is available in the same colours as the new iMac. The Apple Mouse comes in seven different colour schemes to fit the new iMac.